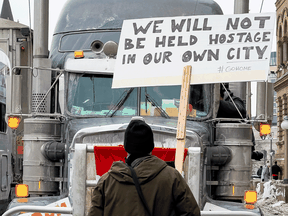 'What could have been done better?': A key question for city's convoy audit
It's the first time the office has asked for public input into one of its audits, says auditor general Nathalie Gougeon.
Article content
More than 500 people have completed an online survey for the city's Office of the Auditor General and another 25 have registered to speak at two online information sessions this week to say how they were affected by last winter's occupation of downtown Ottawa.
Article content
It's the first time the office has asked for public input into one of its audits, says auditor general Nathalie Gougeon.
"It is definitely a first for my office," Gougeon said in an interview Monday. "Generally, the work we do doesn't allow itself for public consultations. We're usually looking for actions from the city after the fact and it's more about compliance or whether appropriate value for money was added.
"In this case, I felt it was pertinent to understand how residents were impacted," she said. "Usually when you conduct an investigation, there are allegations and you're going to prove or disprove. In this case, we're taking a different approach. All parties involved agree that things could have been done better. So the question is, 'What could have been done better? And how could it have been done better?' Those are the answers we're aiming to get."
Article content
The first online virtual forum takes place on Zoom Tuesday evening, with a second session during the day Wednesday. Registration to speak has now closed, but Ottawa residents and business owners have until July 31 to submit the survey.
Part of the strong response — Gougeon called it "a good turnout" — may be from convoy supporters who put out a plea on Facebook for protesters to have their say.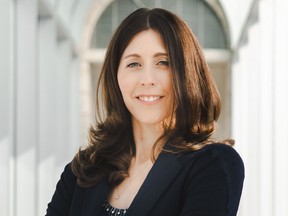 "I encourage all qualified Ottawa residents and stakeholders to participate so that our side of the story is told," reads a post on the Facebook page Live From the Shed.
The Ottawa audit is occurring at the same time as the federal government's Public Order Emergency Commission, but Gougeon said she's co-ordinating with the commission to avoid duplication. Neither the commission nor the city audit has established the ground rules or terms of reference for their respective reports, but Gougeon said she'll make sure they don't cover the same ground.
Article content
"The commission is likely to stay at a higher level than we are and we're more likely to get into specific details, and I think that's where we'll add more value, over and above what the commission is doing," she said.
A non-government People's Commission into the convoy is also underway, with a hearing scheduled later in the summer. The panel, with commissioner Alex Neve, a human rights lawyer and former secretary general of Amnesty International Canada; Leilani Farha, a lawyer and housing advocate; and Debbie Owusu-Akyeeah, executive director of the Canadian Centre for Gender and Sexual Diversity, will deliver its report to mark the first anniversary of the occupation.
Community advocate Ken Rubin, co-founder of the People's Commission, has registered to make a presentation to the auditor general as well. But Rubin said the auditor general's survey is too vague and the two-minute limit for the Zoom presentations too short to get meaningful public input.
Article content
"How can you do a survey if you don't ask the right questions … if you don't name the right people?" Rubin said.
The AG's audit was requested by city council in February. In March, the Ottawa Police Service Board also requested the AG's help. Normally, the city auditor has no jurisdiction to look at Ottawa police and the police services board's actions, but the board's official request gives Gougeon broad powers. Unlike a commission or court of inquiry, the office of the auditor general has access to any information it needs, even if it is considered privileged. But that doesn't mean the public is likely to see it. While the AG's report to council is published on its website, confidential or privileged information will be redacted.
Article content
Originally, city council asked for the report to be complete by Canada Day. Gougeon said it will likely be late fall or winter before she's done.
"In my most recent update to council, I said that we take the necessary time required to conduct our work and provide value-added recommendations both to the city and to the police service and its board. Long story short: we're going to take the time we need in order to conduct a thorough audit," she said.
The report probably won't be complete before this fall's municipal election.
"I do not anticipate that," she said. "Is that a factor in our consideration? Absolutely not. Our work continues whether there is an election going on or not. If we have work ready to report, we will be reporting. But that being said, I don't think we'll be in a position to report prior to the election."
Her report will be delivered to the audit committee before city council sees it, and because of the election, it's unlikely the audit committee will hold any meeting until after the new year, she said.
The public can watch this week's two Zoom sessions at these links:
Tuesday, 5-7 p.m.  ottawa-ca.zoom.us/j/86840665005  and Wednesday from 11 a.m.-1 p.m. at ottawa-ca.zoom.us/j/82580464961
The survey can be found at engage.ottawa.ca/public-consultation-on-convoy-protest