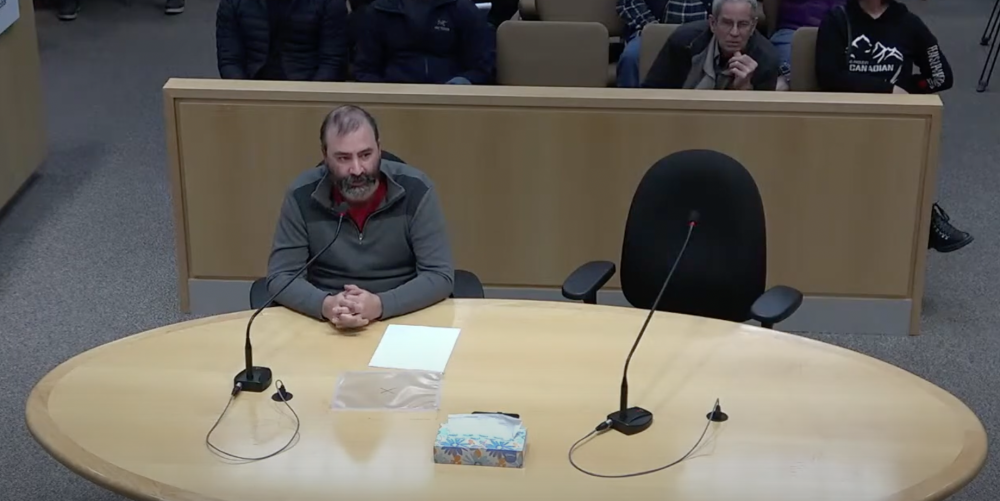 Local group says city lacked true public consultation on policing
City council's decision lacked transparency and enough time to consider policing issues and options, says Peace Country Progressive Alliance.
Article content
Dustin Archibald, who found himself in front of Grande Prairie's city council asking them to reconsider their public consultation process surrounding their policing review, wasn't surprised by their Mar. 6 decision but maintains that it lacked acceptable public consultation.
Article content
"They didn't do a very good job of promoting that they were going to go with a municipal police force. It had been kind of done under the shroud of this police satisfaction survey."
Archibald, a member of the Peace Country Progressive Alliance, wasn't originally scheduled to make the presentation. Because of an illness, he stepped in and approached city council with his concerns as an individual as well as those of the group.
There are two primary issues he says: Timing and transparency. It was January before the public realized there was intention to move ahead with a new police force. Then came the Feb. 21 presentation of a Policing Transition report from MNP and then a March decision. The report included results from 758 residents who answered an online survey that closed in late December.
Article content
That wasn't enough time to give proper consideration to such a big issue. People needed more time to educate themselves on pros and cons and understand policing issues.
As well, It's disingenuous of the city to say they have public consultation when the survey included 758 people and two January open houses that attracted less than 90 people, he adds.
In a February Council of the Whole meeting, Chad Lins, MNP consultant and partner, presented council with the completed report. He described the consultation process as including internal personnel from city operations, external focus groups, open house events and an online survey.
"…a bit of a curated list of folks put together between us and the folks from the transition team," he told council of the internal and focus groups that included one-on-one and group interviews.
Article content
Archibald, who signed up for notifications from the city, said he had one email about the survey and saw no additional advertising, digital or otherwise.
And if you're going to say you have public feedback, he adds, you have to try to do it.
"If you want engagement, if you want people to pay attention and you really want the feedback," he says of city council finding a way to get people interested.
There are so many things people deal with, says Archibald. Covid-19, the war in the Ukraine, politics, news and more politics coming out of the United States and just a general ruckus. They have to find a way through that to engage citizens.
The second and arguably more important part of the consultation was that of transparency, he says.
"They did not come out and say, 'Do you want the police force'."
Instead, a satisfaction survey was completed by more than 700 people who likely thought they were completing a satisfaction survey.
"If you're going to say we had feedback with the public, you have to try to do it. And not just throw in a couple of sessions and a survey and say 'well we tried'."