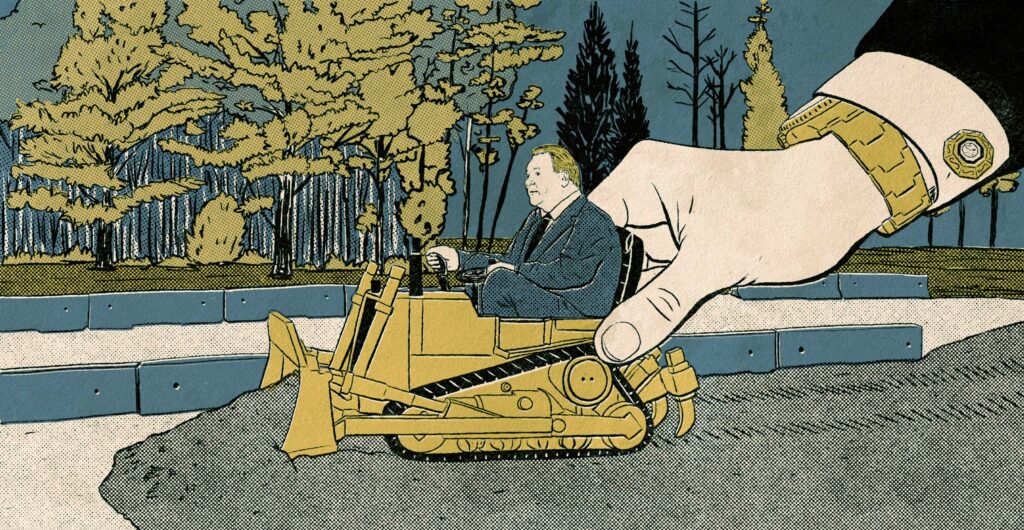 How Doug Ford is changing Ontario's environmental laws
Just before the 2022 provincial election, Doug Ford said five words Ontarians hadn't heard often during his first term.
"I believe in climate change," he told reporters in May, days after a deadly derecho storm left hundreds of thousands of homes without power. "And we're doing everything to prevent it by building electric vehicles, having investment into the battery plants." 
The premier's second term has yet to see any increase in electric vehicle production, while promised investments haven't resulted in operational battery plants so far. Instead, the Progressive Conservatives' current tenure has been defined by battles over land use, as the government opens up protected land and weakens environmental oversight to ease development, while conservationists, cities and citizens push back against losing farmland, wetlands and wildlife habitat. 
Despite intense opposition, the government made its omnibus land use bill, the More Home Built Faster Act or Bill 23, law in late November. That was followed by regulation making its Greenbelt changes official in mid-December: it outlines how 15 separate parcels of land totalling 7,400 acres, including part of the Duffins Rouge Agricultural Reserve, will be removed from the Greenbelt.
Playing in the background is a looming energy supply crisis, which the Ford government is largely planning to tackle through a steep increase in natural gas use that will also increase Ontario's emissions.  
The government has been told that climate inaction would be expensive. The Financial Accountability Officer, a watchdog reporting to the legislature, has estimated that even an optimistic "medium emissions" scenario would mean around $171 billion in costs over the rest of the century to deal with roads, rail and bridge repairs alone. In a higher emissions scenario, those costs climb to $322 billion. And damage to transportation infrastructure is just one of the many costly aspects of an expected increase in heat, flooding, rainfall and snow. 
For the second time, The Narwhal is keeping a running tally of how the Ford government is reshaping environment, climate, conservation and energy policy. Stay tuned for updates — and if you'd like a refresher on what happened in the Progressive Conservatives' first term, go here.
Doug Ford is still changing Ontario environmental policies without meaningfully consulting the public
In 1993, the Ontario government was legally mandated by the Environmental Bill of Rights to consult the public before changing environmental or energy policy, with the independent environmental commissioner's office acting as a watchdog. 
When the Ford government axed the commissioner's office in 2019, those responsibilities shifted to Ontario's auditor general. In the past four years, Auditor General Bonnie Lysyk has found "recurring" violations. In her latest, likely last, review of how the Ford government is upholding the bill of rights, Lysyk found that the Progressive Conservatives are failing to consider expert opinions, while also neglecting to fully explain "the potential environmental implications of proposed legislative or policy changes, or how public consultation affected the decision-making." 
With less than a year left in her tenure, Lysyk found the government did not properly consult the public about three major policy changes that affected the environment. 
One of these was the Progressive Conservatives' first housing bill — Bill 109, or the "More Homes for Everyone Act" — a "complex" law with "great" environmental significance that was made law last April, two weeks before the required 30-day consultation period ended. 
While there has been some minor improvement to the public consultation process, Lysyk also found that 20 per cent of the Ministry of Environment's decisions last year were made without giving the public "timely notice" and failed to make serious consideration of the public's knowledge or perspective. In some cases, Ontarians weren't notified of plans with environmental significance at all: neither the Ford government's plans to try and build small modular reactors nor its low-carbon strategy were posted for public consultation.
"As Ontario's population and infrastructure needs grow, increased development has the potential to negatively impact natural areas and the environment," Lysyk wrote in her review. "Fully embracing the intent of the [Environmental Bill of Rights] Act and following transparent and meaningful consultation can only help government make informed, long-term environmental decisions that benefit all Ontarians, while building public understanding and support."
Lysyk isn't the only one noticing the Ford government's failure to meaningfully consult the public. The Chiefs of Ontario are calling for the repeal of the omnibus housing act, Bill 23, citing the Progressive Conservative's lack of consultation with Indigenous communities, which Indigenous leaders have called "unlawful" and an "abuse of power." 
Ontario imposed a pollution price on industries
After losing a Supreme Court battle against the federally-implemented carbon price, the Ford government was forced to introduce its own that met national standards. On January 1, 2022, Ontario's Emissions Performance Standards took effect on industrial polluters. The concept is similar to the federal carbon pricing system: it sets a price on carbon and creates a market for carbon credits. 
Companies that produce less than their applicable limit earn credits, or "emissions performance units," that can be sold to heavy emitters, which are defined as companies that produce 10,000 tonnes or more of carbon dioxide annually. Companies that emit more than this benchmark must buy these credits, or pay a price per tonne of carbon dioxide. Details of the program are sparse, but Ontario companies were asked to transition from the federal carbon price program to the provincial standards by Dec.15.
Despite past laments about what Ford incorrectly dubbed the "job-killing carbon tax" — and repeated denials of the program's climate benefits, including through a $4-million sticker campaign that an Ontario court ruled unconstitutional — the government has already signalled that its pollution price will increase in lockstep with the federal carbon price. According to its September 2021 regulatory proposal, Ontario's price per tonne of carbon for industrial emitters will increase from the present $40 to $65 in 2024 and $170 in 2031.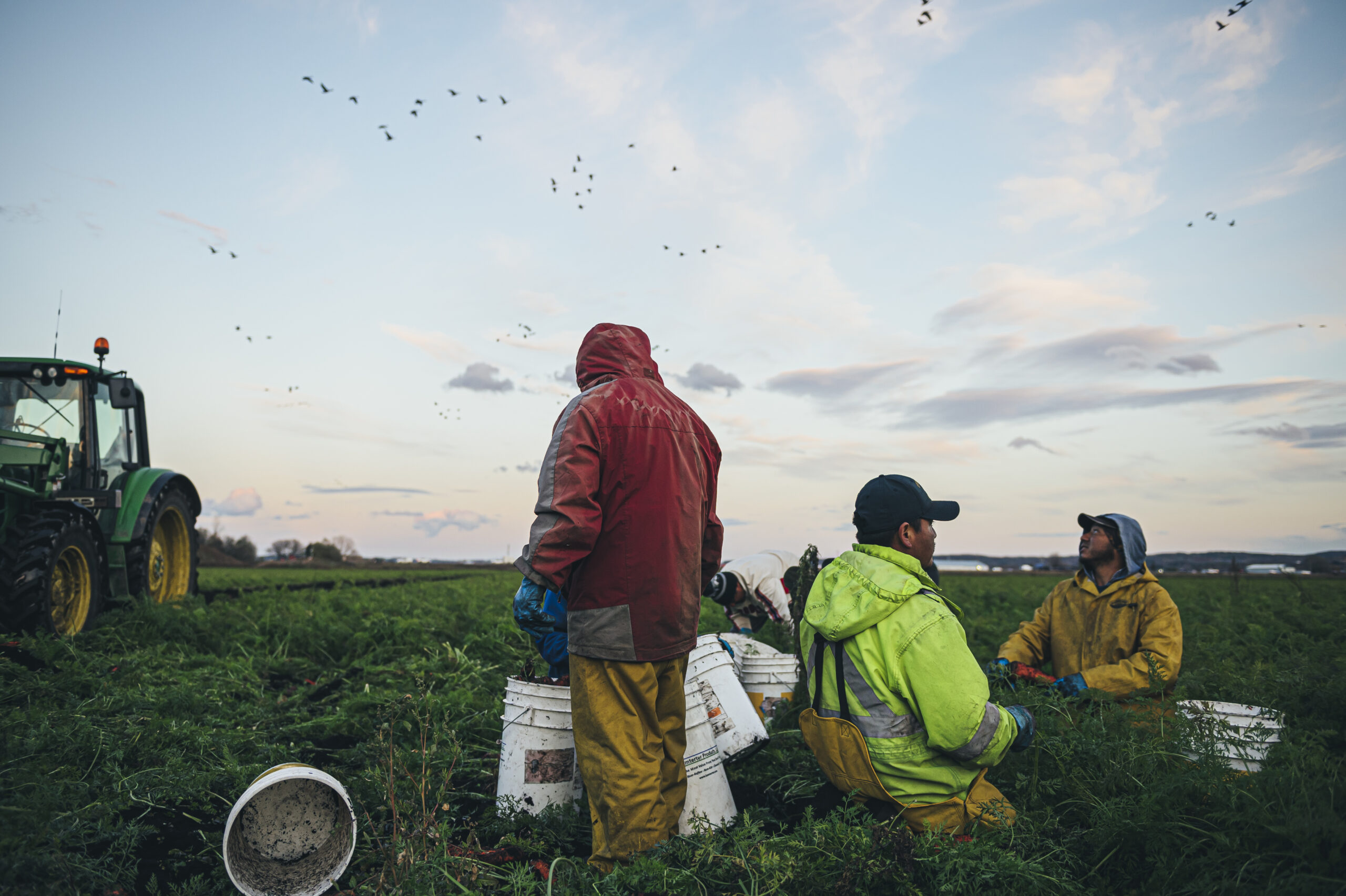 Doug Ford is cutting into Ontario's Greenbelt 
On Nov. 8, 2022, the Ford government announced plans to open up 7,400 acres of Greenbelt land in southern Ontario for housing development — a stark reversal of the premier's years of promises never to touch it. Municipal Affairs and Housing Minister Steve Clark, who has also promised not to touch the protected area in the past, said the move would help the province build 50,000 new homes, a small fraction of its goal of 1.5 million over the next 10 years. 
The government is "considering every possible option to get more homes built faster," Clark's ministry previously told The Narwhal. But the move goes against the advice of the government's own housing affordability task force, which said Ontario's housing crisis can be solved without cutting into the Greenbelt.
Ford and Clark's pitch is basically a land swap. They propose removing 7,400 acres from 15 sections of the Greenbelt. In exchange, they want to add in 9,400 acres elsewhere. But whether that compensation land actually amounts to a net benefit is up for debate. It would come from a small portion of a rock formation called the Paris-Galt Moraine northwest of Toronto, where farmland is already protected under other mechanisms, and from a series of urban river valleys that are publicly owned and cannot be built on anyway. (The government previously announced plans to add the urban river valleys to the Greenbelt earlier this year.)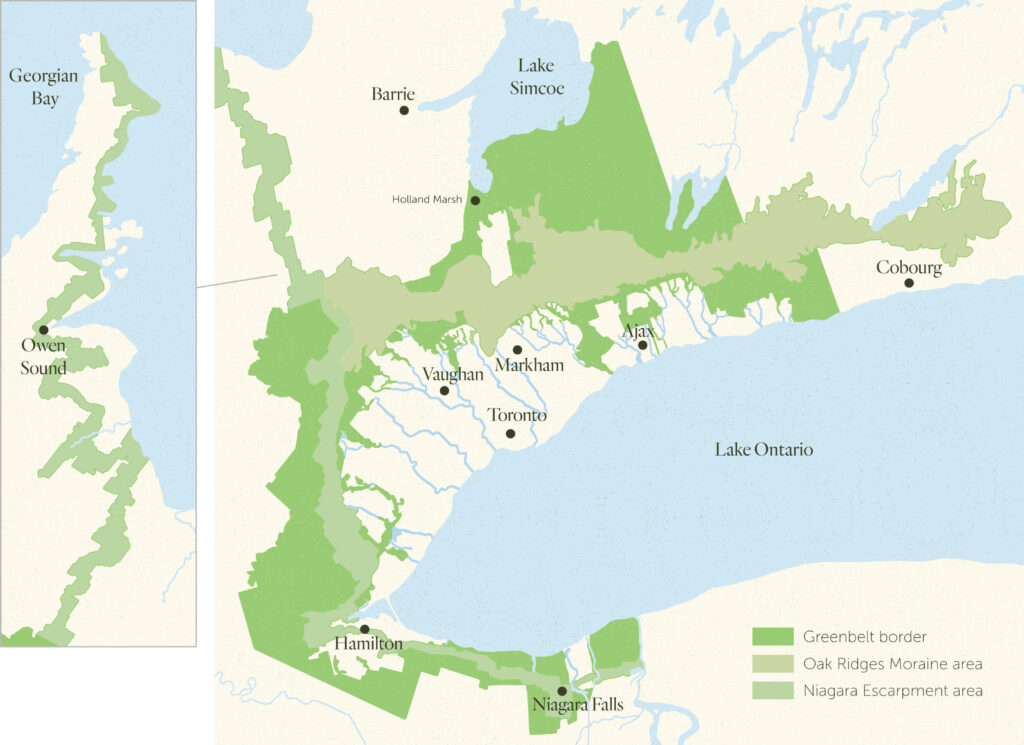 The government has said the 15 sections of the Greenbelt that are set to be opened for development are on the edges of the protected area. But it also hasn't answered questions about why it chose these specific spots. 
Two weeks after the government announced it would cut into the Greenbelt, an investigation by The Narwhal and the Toronto Star found that nine developers who would particularly benefit from the proposal have donated significant sums to Ford's Progressive Conservatives. As well, six developers spent significant sums on Greenbelt land in the past four years, since Ford was recorded in 2018 telling a private audience he'd "open a big chunk" if elected premier, even though the land was protected at the time.
The investigation also showed that several of the development companies benefitting from the land swap are connected to the Progressive Conservatives through former Tory officials, staffers and politicians now working as registered lobbyists. 
The reporting raised questions about why the government settled on the Greenbelt land it chose, and whether it gave developers advance notice of its plans. Clark initially refused to say, but amid multiple calls for investigations and after days of pressure from reporters and opposition parties, Clark eventually denied giving developers a heads-up.
"I look forward to being vindicated and I look forward to the apology from the official opposition," Clark said. 
In the meantime, other groups have raised concerns about the proposal: Parks Canada has said the move would go against an agreement between the federal and provincial governments, and could cause "irreversible harm" to species at risk and Rouge Urban National Park. At least 20 protests happened across the province on the first weekend in December, and a group representing engineers in Ontario said the plan would "hinder Ontario's carbon targets without providing enough economic return, nor reducing the cost of buying a new home."
The Greenbelt changes aren't final yet, but the government could push them through at any time. 
Ontario is making it easier to build on wetlands
The Ford government's plan to make it easier to build housing also included measures that would make it more difficult for wetlands in Ontario to be protected. This is significant because Ontario has very few wetlands left — and because bogs and swamps help sequester carbon and mitigate floods. 
Experts evaluating which wetlands are eligible for "provincially significant" status, which protects them from development, are guided by a manual from the province's Ministry of Natural Resources and Forestry, which outlines rules to score wetlands based on their benefits to the ecosystem. The government has proposed a huge rewrite of that manual. 
The biggest changes eliminate two major avenues for wetlands to qualify as provincially significant. First, wetland evaluators now can't consider whether the habitat is important to species at risk. As well, wetlands must now qualify in isolation — disconnected from the wetland complexes they're often a part of. That means very few wetlands will actually be eligible for the protection, experts told The Narwhal, particularly smaller wetlands that don't seem important on their own, but are part of complex watersheds and migration paths. 
The new rules, if finalized, would also give the province the ability to remove protection for wetlands that qualified under the old requirements but not under the new ones. The province's consultation for the updated manual ended on Nov. 24, 2022, but it hasn't given a timeline for when it might push the rewrite through.
Wetland experts told The Narwhal the changes could contribute to problems with flooding, worsening water quality and the decline of endangered species.
Ontario is gutting conservation authorities to speed up development 
For the second time in four years, Ford's Progressive Conservations have disempowered conservation authorities, agencies unique to Ontario that are tasked with protecting watersheds. This time around, the gutting came via Bill 23, which weakens the authorities' oversight powers over development plans, and instructs them to find land in the natural conservation spaces they protect that could be suitable for development. 
The list of changes is extensive. It includes watering down the criteria conservation authorities can use to review development — they can no longer consider "pollution" or "conservation of land." The authorities are also no longer mandated to work with municipalities to ensure vital environmental spaces that supply drinking water and contain wildlife habitat aren't damaged: these relationships are now optional and can only be advisory. For the most part, the important responsibilities of a conservation authority are now being downloaded to municipalities, which even developers say have neither the in-house technical expertise nor the financial capacity to take on the many tasks done by conservation authorities. 
The government has said repeatedly that conservation authorities will maintain their key role: to protect people and property from flooding. But authorities say the sweeping changes were made quickly and without any consultation. No timeline has been set on when the changes will come into effect. 
Doug Ford is forcing Ontario municipalities to open farmland to development
On a Friday afternoon in November, the Ford government released a series of bombshell decisions about municipal growth plans without notice. These were unilateral decisions ordering some of Ontario's largest urban centres to expand beyond their current boundaries and start allowing development on farmland and green space that, in some cases, local residents had clearly signalled they wanted to protect. These decisions cannot be appealed. 
In Hamilton, Ont., the municipal government underwent a year-long public consultation that saw 18,000 residents opt for intensifying development instead of permitting sprawl. Halton Region took a similar stance after conducting a detailed study of its residents' housing needs and concluding itsy could meet its growth targets by focusing on intensification. 
Despite all this, both Hamilton and Halton Region were overruled by the Ford government and forced to expand their urban boundaries. Residents and local politicians told The Narwhal the move was an affront to local democracy that also threatened farmland and food security. The provincial order gives these municipalities two years to plan and begin development. 
Other Ontario municipalities, including Durham, Peel and York, submitted growth plans that aimed to open thousands of acres of farmland to development, as the Ford government had wanted. For these places, the government's decisions were permission to begin. 
Ontario has greenlit a contentious sewage plan for York Region 
The same day Bill 23 was released, the Ford government also made a sudden decision on a contentious sewage facility in York Region that has been fiercely debated and delayed for 13 years. 
One of the big challenges with residential development is ensuring new neighbourhoods are properly serviced to support a growing population, including with wastewater infrastructure. Development cannot begin without these pipes and supporting facilities in place.
Since 2009, York Region north of Toronto has been trying to set up a new sewage plant to serve the rapidly growing towns of Aurora, Newmarket and East Gwillimbury. York has spent $100 million of a $715 million proposed budget, some of it on the most expensive environmental assessment the region has ever conducted, which examined the impacts of carrying so much wastewater into Lake Simcoe. All along, the Chippewas of Georgina Island have expressed concerns about impacts on the watershed and the region's failures to include the First Nation in the process. 
Successive governments have long delayed making a decision on this facility. In the fall of 2020, the Progressive Conservatives offered an alternative solution: instead of creating a new facility that would dump sewage in Lake Simcoe, it proposed to expand the sewage lines from York Region to reach the existing high-tech Duffin Creek Water Pollution Plant in Pickering, which releases treated water into Lake Ontario. 
This proposal was made official in late October, when the government issued its decision to expand the Duffin Creek plant. The government-appointed York Region Wastewater Advisory Panel, set up in 2021, supported this decision in a report released the same day, calling it "the most effective option available." In its analysis, the panel weighed heavily the opposition by the Chippewas of Georgina Island, and noted that building a sewage plant in York Region would emit 50 per cent more greenhouse gases than the Duffin Creek option, which could also be expanded at a lower cost than building a new facility.  
Much needs to be figured out by both York and Durham now that the province has made its long-overdue decision. In October, Durham Region chair and CEO John Henry told Newmarket Today the municipality needs more time to "understand the technical details and implications for Durham residents." Henry previously told The Narwhal he would be opposed to taking on additional sewage waste from York Region because Durham needed to support its own residents first. 
Ontario is making contradictory energy policy decisions that will reduce the cleanliness of the grid
Since being re-elected in June 2022, the Ford government has been backtracking on a number of energy policy decisions made in its first term, sending out a flurry of sometimes contradictory announcements and reversals on previous decisions. 
As the province faces a looming energy supply shortage, the Progressive Conservatives have reversed previous cuts made to energy efficiency programs. And as it ramps up the electrification of transportation and industry, the government has also delayed the long-planned shutdown of Ontario's oldest nuclear power plant, in Pickering, for the second time. 
These emissions-conscious announcements were made even as the government awarded contracts for four new natural gas facilities — a move that will sharply increase the emissions produced by Ontario's grid, which is over 90 per cent emissions free, due largely to nuclear power. Energy Minister Todd Smith told the Toronto Star natural gas was needed to ensure the system is "reliable" in the short-term, as a significant energy shortfall is expected from Pickering's closure. Soon after, the Independent Electricity Systems Operator released a study projecting that natural gas will make up almost a quarter of all electricity generation in the province by 2040. This would increase emissions by 260 per cent but, the operator wrote, "without gas generation, Ontario's electricity system would see frequent and sustained blackouts in 2030." 
Despite this, Smith refused to renew a seven-year, zero-emission hydroelectric power purchase agreement with Quebec. 
There is a tight, urgent window for the government to find new sources of clean energy to make up for the rapidly widening gap between demand and supply, particularly as Ontario industries look to electrify their operations. The Independent Electricity Systems Operator released another study on Dec. 15, showing the province can put a moratorium on natural gas by 2027 "provided new storage, nuclear, renewables and expanded conservation efforts are ready." 
This would require the province to "more than double" the size of the electricity sector. The operator estimates this would cost around $400 billion and could be done with a series of "no regret" actions that include "accelerating" efforts to acquire new non-emitting and low-carbon sources of energy, building new nuclear, hydrogen and transmission infrastructure and working collaboratively with Indigenous communities and municipalities. If the province gets all this started soon, the operator estimates that by 2035 the electricity sector could be less reliant on natural gas and lower emissions by 60 per cent below its original forecasts. 
The operator repeatedly recommends reducing Ontarians' reliance on fossil fuels, but its recommendations still fall short of the federal government's instruction for all provinces to reach a net-zero grid by 2035. The operator estimates the last natural gas facility in Ontario will be operating until at least 2040, although increasing alternative energy sources quickly could change this timeline. The decisions lie with the Ford government.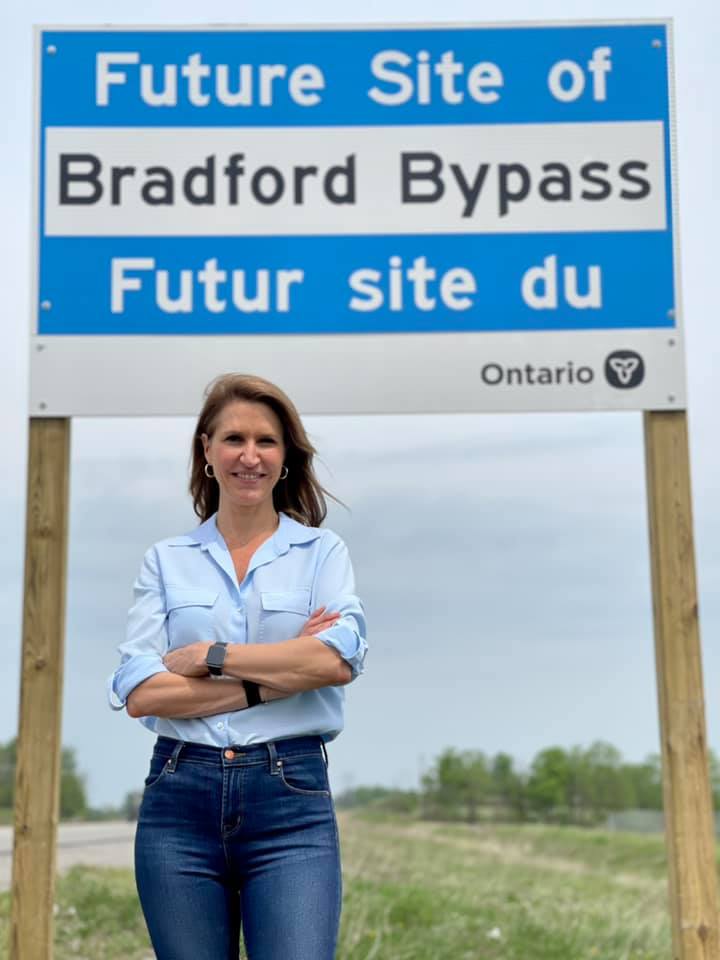 Ontario started construction on early works for the Bradford Bypass
On Nov. 9, 2022, Ontario Transportation Minister Caroline Mulroney announced that the province had broken ground on a bridge needed for the construction of the Bradford Bypass, a proposed highway through Ontario's Greenbelt. 
The bypass would connect Highways 400 and 404 north of Toronto, running a 16-kilometre path that cuts through York Region, Simcoe County and the Holland Marsh section of the Greenbelt. The bridge is an early step that moves the project forward, enabling an existing road to go over the bypass.
"This important milestone brings us another step closer to getting the Bradford Bypass built, improving economic productivity and eliminating the gridlock that hurts us all," Mulroney said in a statement.
The marsh was once one of the largest wetlands in southern Ontario, but settlers drained it for agriculture in the 1920s. Today, it's nicknamed Ontario's vegetable patch because of the high-quality produce grown there. The highway would run through some of the remaining wetlands in the marsh, which are supposed to be protected from development. It would also cross over the Holland River, which drains into Lake Simcoe.
The project last received an environmental assessment in 1997, before the existence of the Greenbelt or policies tackling climate change.
The government has argued that the highway is needed to relieve already-congested traffic in the region, especially as York Region and Simcoe County are expecting a continued explosion of population growth in the coming decades. It has also said it's holding the project to a strict environmental standard — though it has exempted the project from undergoing a new environmental assessment, it is updating that old review with a round of fresh studies.
Critics, meanwhile, point to concerns about its environmental impact. That 1997 assessment surfaced a few issues: road salt from the Bradford Bypass could contaminate groundwater and the Lake Simcoe watershed, air pollution from traffic could be higher than what's currently recommended and the Chippewas of Georgina Island First Nation had raised concerns about archaeological sites along the route.